Notary Public Teleclass #2
Marketing Blizzard, Online and Offline.
Develop more business than you can handle
About this session:
Marketing and promoting your business online AND offline.
Online tools and search engines to use.
Specific steps you can take to increase your chance of being found online.
Places to advertise your business online.
How to use online tools to market your business offline.
How to locate brick and mortar locations that you can go to either in person, or call by phone to promote yourself.
More than 20 different ways to promote your business offline.
Choosing the right domain name and obtaining a website
In order to be found online, pick a domain name that contains keywords that you would like to be associated with.
For example, if you are providing notary public service in Beverly Hills, pick something like BeverlyHillsNotary.com.
To register a domain name and to host your website, you can go to godaddy, o rany other domain name registration services.
Search Engines and their approximate market share:
Online Business Directories that you can list your company in:
Notary Public Directories:
To get certified as a Notary Public Signing Agent:
Notary2Pro.com (lets their Escrow companies and services know when you graduate from their program as well)
Other online services to utilize:
A Service that synchronizes your company data across 100's of these directories (for a fee)
use free to scan your business info and then add it manually, or pay for their services…
Yahoo.com (offers this service as well)
Press Release:
Pay per Click Advertising (PPC)
Mailing List Companies:
Signing Services
 Using Google Maps (maps.google.com) to locate businesses within a specific area:
Enter a specific address, intersection, or city/zip code.
Use the "Search Nearby" feature, and enter the type of business you are looking for (Escrow, Real Estate, Attorney, Convalescent Home, etc.)
Below is a screen shot of what it looks like: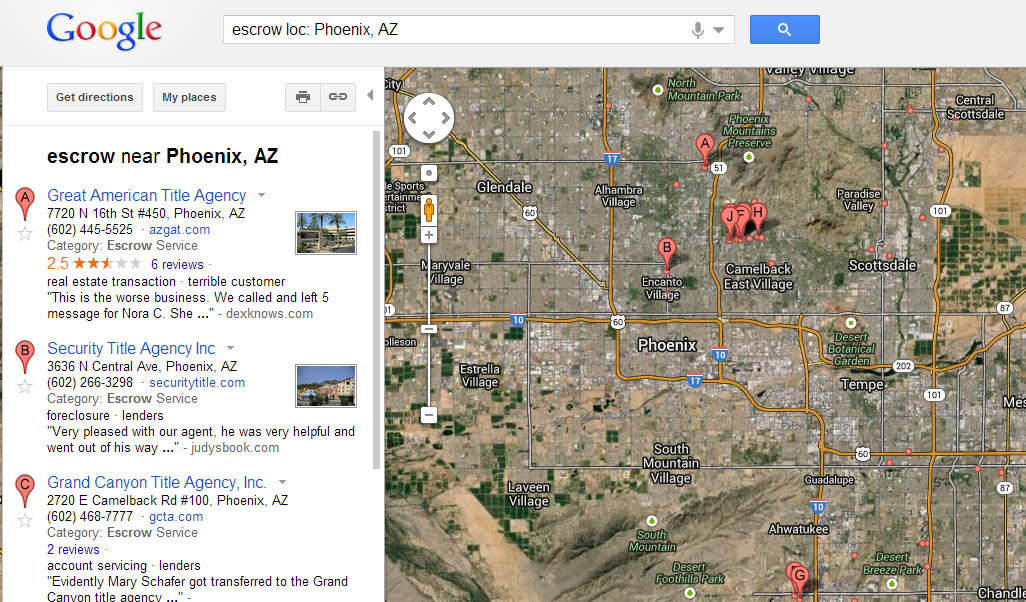 For one on one help to build and increase your business, or to implement any changes in your life, contact me at: coaching@arelicoaching.com
or, through the "contact link" below.