Welcome to the voyage of Captain Hartmut Eggert on Guppy (a Jeanneau 38 Gin Fizz) from Whangarei, New Zealand all the way to Marina Del Rey (Los Angeles, California). A 7,000+ nautical mile trip leading via many Islands like Fiji, (American) Samoa, Line Islands and other stops in between to Hawaii as our first stop in the US. Then, around September, the voyage will continue for its final leg to Marina Del Rey.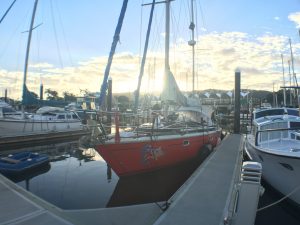 Track us online and sign up for the blog updates below
Please complete the form below to sign up for blog updates:
Chart Your Course To Success – In business, leadership and life.
This book will ship in November and will contain the CHART-Philosophy, and the story of Guppy's sail from Whangarei in New Zealand all the way to Los Angeles. A trip of more than 7,000 nautical miles.